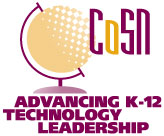 This Sunday the CoSN 2010 conference on Innovation, Ingenuity & Insight had its first day in Washington DC with the International Symposium and the pre-conference Workshops. Note: dutch readers may have noticed this text is in english ;-) this is a courtesy to our american hosts although they have assured me my earlier blogposts were very well translated by Google translate. I'll check out the reverse results myself, I wonder how this post reads in Dutch…
The pre-conference workshop
I participated in the afternoon pre-conference session titled: How 2 B a Disruptive Leader. The Consortium for School Networking (CoSN) has facilitated a global discussion on the effective and appropriate use of web 2.0 technology in schools, particularly in the instructional process. I joined the panel together with Bill Miller (CTO Rapid Parish School District, Louisiana) and Todd Neibauer (Director of Technology Traverse Bay Area Public Schools, Michigan), moderated by Mike Porter (CTO & CIO Traverse Bay Area Intermediate School District, Michigan).
We all gave short presentations on our take on web 2.0 and the adoption, or lack thereof, in schools. Mike argued that a disruptive approach is needed to overcome the hesitation in adoption of ICT in education. Our students are used to these web 2.0 tools and will not accept (much longer) that they are banned from using them in school.
My short introduction talks about the sociality in media, what is the origin of this phenomenon and how can it be applied in education constructively. My sheets are on slideshare, I've inserted them below for your convenience.
Louisiana law prohibits (most) electronic communication between teacher and student
Bill Miller from Louisiana elaborated on the roadblocks from a safety perspective. His explanation of the 2009 legislation in Louisiana was very interesting to use an understatement. All 'electronic communication' between an employee at a certain school and a student from that same school is limited by Louisiana state law (ACT no. 214). This law prohibits the use of electronic communication between teachers and students, the only exceptions are those services offered by the school in question. That excludes any collaboration tool on the Internet today or tomorrow… Schools and teachers were not involved during the conception of this law and its negative side-effects are already noticeable as teachers are becoming less innovative in fear of breaking the law!
Tweet your way into some serious learning!
Todd Neibauer based his argument on a brilliant example of a group of motivated individuals with a common interest combining their knowledge and resources to achieve their goal. In this case they figured out who would be the new football coach of their favorite team by tracking the leased jet-plane which the interview team took to meet the new coach. They used twitter to communicate and used online information on air traffic and airplane tail-numbers in combination with surveillance by local residents to name the new coach 5 hours before the official announcement. Now that would be an interesting learning experience!
I had a lot of fun preparing for this session with Mike, Bill and Todd. I learned a lot from them and got very good feedback on my own ideas and opinions. We continued the session with small group discussions. I will post the results from those conversations in a followup post tomorrow.
Mike (February&March/2010)